Equine Investment
Each session package includes a custom session tailored to you and your horse. You'll receive an online gallery with your web size digital images for online sharing. We can go to any location of your choosing.
The Experience & Collections
BOOKING
Booking links can be found in each session description. You can book a free consultation call, or email ([email protected]). A $100 non-refundable retainer and a signed contract secures your date.
PREPARATION
After booking, you will receive a welcome package with a session guide to walk you through all preparations. A few weeks prior to your session we will also have a pre-session planning call to finalize plans and get to know each other!
SESSION
During your personalized portrait session, we will spend a moment in time together while I capture some of your dearest memories in an effortless and natural way. I will guide you and your horse every step of the way to ensure the best results!
DELIVERY
1-2 weeks after your session we will view your finished images together.
Horse & Rider Sessions
For capturing moments & bonds between horses and the people who love them.
Each session is focused on capturing the amazing bond between you and your horse.
I usually photograph where the horse is most comfortable as I create a calming environment for him/her to relax. During this time I will create a mix of lightly posed images that is most flattering to you and your horse as well as some candid images. My experience with horses gives me patience with the most temperamental horses, as well as the knowledge to keep the experience safe and upbeat for everyone involved. I have several tricks up my sleeve to get the best expression from your beloved horse!
I am dedicated to provide passionate equestrians the opportunity to capture the unspoken bond they have with their horse and therefore offer several packages to fit a variety of budgets.
Every package can be broken up into payment plans to fit your unique budget.
Please note: I do not provide horses for sessions. They must be owned or leased by you, or borrowed with permission from a lesson barn or friend.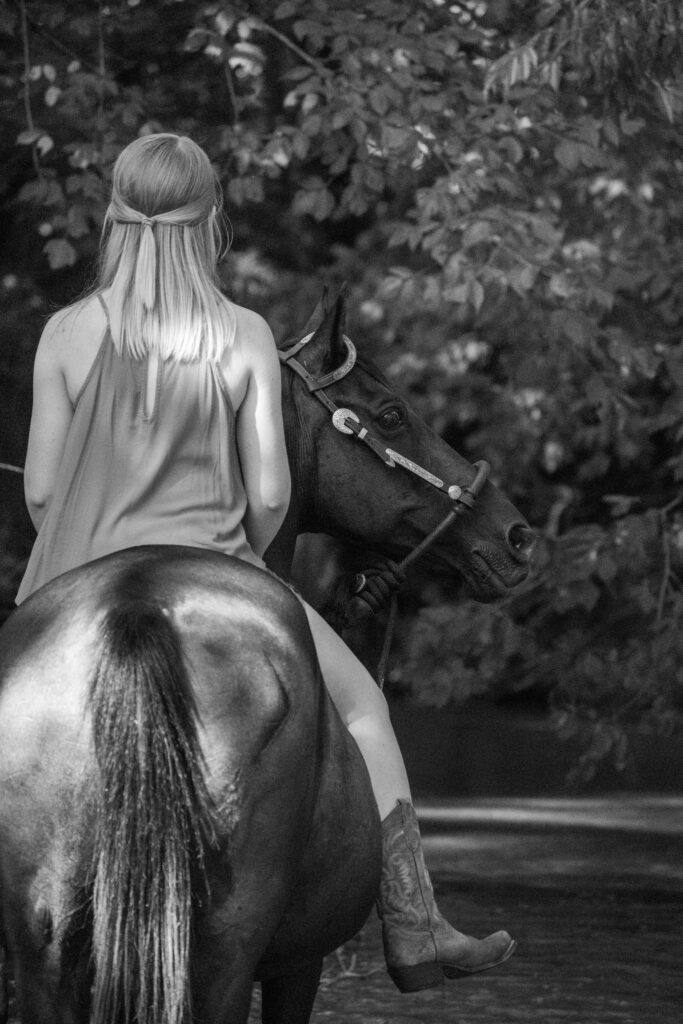 Bronze Session
◦ 10 images
◦ 30 minutes of shoot time
◦ one outfit
◦ $150
Silver Session
◦ 20 images
◦ 1 hour of shoot time
◦ one outfit
◦ $275
Gold Session
◦ 35 images
◦ 1.5 hours of shoot time
◦ two outfit
◦ $425
Add-On Options
to be agreed upon prior to booking & added onto contract at the time of booking
◦ Extra horse or person / $20
◦ Extra outfit change / $10
◦ Black background session added onto existing session / $150
You deserve to celebrate your horses beauty and your relationship!
Say YES To:
A customized session, designed in collaboration with you so your dreams come true.
Working with an approachable and down-to-earth photographer who takes the time to get to know you before your session.
Guidance in posing and positioning you and your horse so you look your best, and allows for those spontaneous moments which make you, you.
More intimate moments with your horse, less "smile at the camera!"
Photographs where your horse and your connection are the focus.
Support in selecting the memories you'll keep forever in wall art and albums which suits your home.
A photographer who becomes genuinely invested in you and your horse's love story, and becomes your cheerleader for life.
Equine Portrait Sessions highlight your horse's grace, beauty, and spirit through photography by just focusing on your horse during a quick session. Often called "black background sessions", these custom sessions usually take place within a barn aisle or indoor arena. Depending on your personal preference and style, sessions can include a more modern solid black background, or a more natural outside background. These sessions focus on simplicity, creating timeless and classy images for you to display in your home for years to come.
Please note that all social media size images do include a visible centre watermark. Full resolution images include a small corner watermark. All sessions include social media copies, as well as full resolution copies. Every session includes a print release, as well as a online gallery for viewing/downloading.
All session prices are for one horse/one rider, at one location. All sessions are 30 minutes. All sessions it is strongly encouraged that you have a helper on standby for the duration of your session to ensure that we get all of the shots necessary for your session.
All Session prices are for one horse/one rider, at one location.
Black Background Session
◦ 5 images
◦ $200
Black Background Session added on to existing session
◦ 5 images
◦ $150
Black Background Mini (only available within Sevierville, tn as an add on to existing sessions)
◦ 3 head shots
◦ $135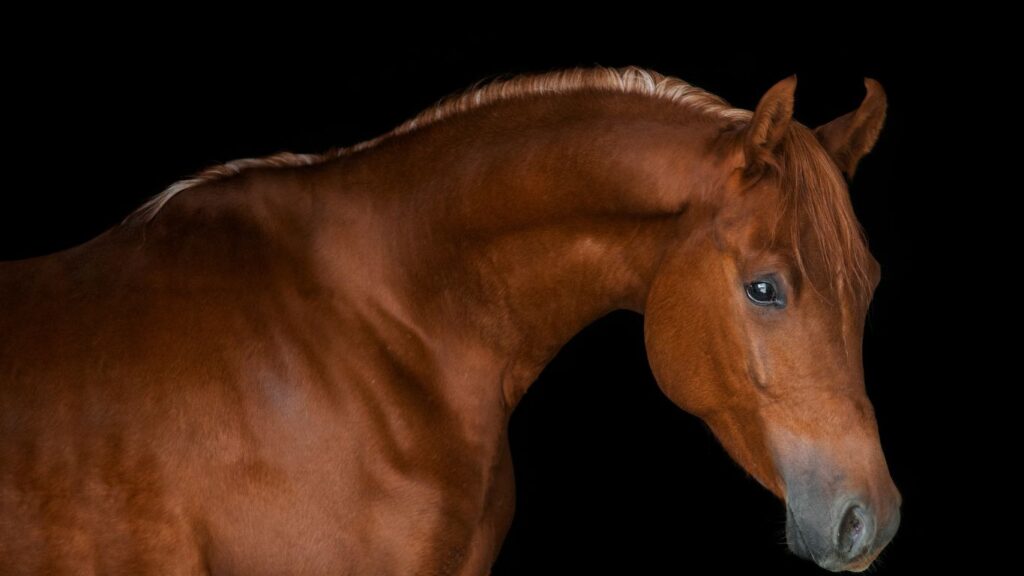 please contact me for more information and detailed pricing.
This session requires a clean (swept or raked), uncluttered barn or indoor arena doorway. I photograph your horse in natural light to show off their unique personality, as well as any markings.
Equine Sales & Promotion
What are your promotion and sales images telling people?
Whether you sell horses for a living or have a family horse you just want to end up in the most suitable home possible, I can help you show their best side. Their build, personality and diversity are what you want to be up front and clear on their sales ad, and photos of them strutting their stuff is one of the best ways to do that.
People tend to make a judgement based on your horse within a few seconds. Do your photos reflect your professionalism, confidence, and trustworthiness? Or do they show that you are hurried, cheap, and possibly inexperienced? Or worse, do they not show the horse in the best light possible, making it look disproportional or sickly?
By investing a small amount towards professional portraits designed to make your horse shine you are leaving the best possible impression on those considering your horse.
These sessions are designed to promote your horse for sales, breeding, publications, and printed material. Stand out from the crowd with professional photographs of your horse.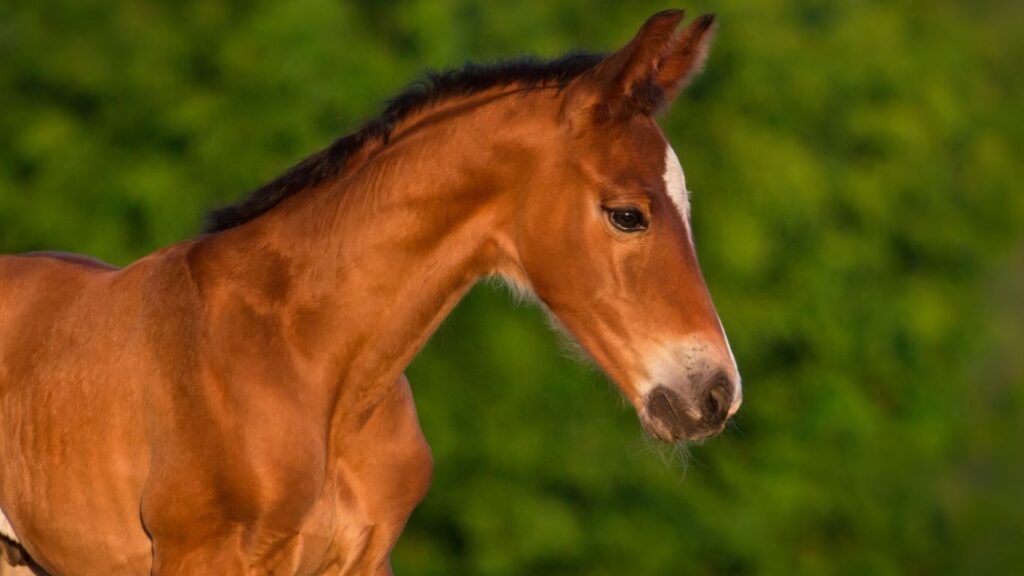 Sales Photos
◦ 30 minute session ◦ Conformation and Under Saddle Only
$175
Mares & Foals
◦ 1 hour session ◦ Conformation
◦ Headshots
◦ At Liberty
◦ Under Saddle
$325
The Stallions
◦ 1 hour session ◦ Conformation
◦ Headshots
◦ At Liberty
◦ Under Saddle
◦ 2 Black Background Images
$425
You may add additional horses to your session! Each horse added will extend your session by 30 minutes. Each additional horse is a flat $100.
RE-SHOOTS WILL BE CHARGED!
IMAGES NON-TRANSFERABLE TO THE BUYER!
Images are intended for one-time use promoting the sales of a horse. The eventual Buyer may contact us and purchase the images from us for their use
All prices are subject to change without notice.
Taxes are not listed on packages, and will be added once an invoice is sent per TN STATE TAX.
The CEP Client Experience
No matter your session, you'll experience:
A fellow equestrian for a photographer who actually GETS the passion.
A pre-session consultation so by the time the day rolls around, you feel totally comfortable.
All image selections are individually retouched.
Guidance planning your dream session, where there's no such thing as a dumb question.
Horse-focussed photography, where your horse's posing and editing gets as much attention as yours.
Memories from your artwork provided digitally, custom sized for each social media platform you use so they never look blurry or pixelated.
These digital memories are also provided in high resolution with unrestricted printing rights, with tips for storage and printing
memories are an investment which lasts a lifetime
F.A.Q
Below you can find answers to most frequently asked questions. I hope these provide answers to any questions you may have in your mind after reading the information on this site. That being said, know that if you ever have any further questions, I'm only an email away!
CAN YOU PROVIDE A HORSE FOR MY SESSION?

I actually get asked this question a lot, and while I used to, I do not anymore.

For liability and logistical purposes, I cannot provide horses for these sessions.

All horses must be owned by the client, leased by the client, or used with permission of the owner (ex. lesson barn or friend).
HOW FAR IN ADVANCE SHOULD I BOOK A SESSION?

The more time, the better! That way you'll be sure to get the date & time you really want. Although, I do my best to accommodate immediate needs.
HOW WILL I CHOOSE A LOCATION?

A lot of the time the location is where your horse lives. But my opinion on locations is: the more unique, the better. I'll help in any way that I can to make your dream backdrop come true.
WHEN IS PAYMENT DUE?

There's a $100 non-refundable retainer due with your signed contract & liability waiver to reserve your session date. The remainder is due the day of the session. This can be broken into payments, with the remainder due day of session.
WHAT IF I WANT TO CANCEL OR RESCHEDULE MY SESSION?

The retainer reserves your date and time with me. For that reason, it's non-refundable if you choose to cancel, and non-transferrable if you choose to reschedule.
WHAT HAPPENS IF THE WEATHER IS BAD?

A huge part of my job is keeping a close eye on the weather forecast for each session. If it's looking like the weather won't be in our favor, we'll reschedule for the next available date.
WHAT SHOULD I WEAR FOR MY SESSION?

I'll send you an online planning guide that covers everything you'll need to know about what to wear, how to get ready, what to expect from your session, etc. I do try to tell every client to be yourself! If you do not dress up and get fancy, wear makeup, you do not have to!
WHAT IF MY HORSE DOESN'T LIKE TO STAND STILL?

If you have a horse with high energy, you may want to work them a little extra before your session. It's also a good idea for any horse to get a snack before their session so they can focus on us rather than worrying about when their food is coming (since most sessions are booked pretty close to feeding time).
CAN I BRING MY DOG TO MY PHOTO SESSION?

Yes, as long as they're allowed at your session location! Please bring only well behaved dogs.
CAN I BRING SOMEONE WITH ME?

Not only can you bring someone with you, I highly encourage it! They can help keep your horse calm and in a safe situation so you can focus on yourself. They can also help with getting those ears forward! This can be a family member, trainer, friend, spouse, etc.
CAN I USE MY PHOTOS FOR ADS AND SOCIAL MEDIA?

You'll have full permission for printing, ads, and online personal use.

Credit to Clabough's Entertainment & Photography is never required, but always greatly appreciated @CLABOUGHSENTERTAINMENT on Facebook.
DO YOU TRAVEL?

Yes! All photo sessions located outside of Sevierville, TN or 30 miles outside of Sevier County will be subjected to a traveling fee. I charge $1.25 a mile
WHEN WILL MY IMAGES BE READY?

Depending on your package, most galleries are ready in about 2-4 weeks. After they are finished I will upload them to an online gallery, you will receive an email with a link and passcode to your gallery.
WHAT DO I GET FOR "DIGITAL IMAGES"?

You will be able to download two image sizes in your personalized online gallery!

The high-resolution photos are suitable for printing, and the low-resolution photos are perfect for social media/online use!
CAN YOU EDIT THIS OUT?

Every photo is hand edited to ensure everything looks wonderful. I will edit out your blemishes, fly aways, and brighten your eyes & teeth. On Horses, I will edit out any knicks, scares or fly aways, some owners would like to keep certain scars, or blemishes that say this horse is who they are incase they are stolen or lost, if you want to keep certain blemishes or scars please do not hesitate to ask me. Occasionally I will edit a horse's ears forward if I cannot get in in camera. I will also edit out extra lead ropes, or distracting background items. If you have multiple horses I can usually edit them together in a black background image.

Please understand that although I do my best to edit things as best as possible, however I cannot make a dirty horse look clean. The cleaner you get your horse the more he/she will shine in the picture!

Things I will not edit are editing people's weight or changing a horse's conformation for sale ads. I feel this is being dishonest and makes a person feel worse rather than better. Do not worry though, I will always pose you & your horse in the most flattering way possible!